TROLLDOM TIDBITS
...STUFF YOU ALWAYS WONDERED ABOUT BUT FORGOT TO ASK...
MR. SUMPPI'S SHADOW
There has been a lot of talk about Mr. Sumppi's shadow. It is well-known in Trolldom that when Mr. Sumppi is in a bad mood (very seldom) or angry (extremely rare), his shadow moves to the wrong side. We here at TROLLDOM INFORMATION OFFICE (TIO) feel it is our duty to provide you, Dear Reader, with accurate and pertinent information, and so we posed the question to Mr. Sumppi himself. Interview follows:
TIO: Good morning Mr. Sumppi. How are you today?
Mr. S: Good morning. I am fine, thank you. I hope you are too.
TIO: Yes, thank you. Is it true about your shadow?
Mr. S: Yes - I suppose you are asking if my shadow is sometimes on the wrong side?
TIO: Exactly. So it really does happen?
Mr. S: Yes, when I'm angry or in a bad mood, my shadow moves to the wrong side. Strange, isn't it?
TIO: Indeed. Could you show us, please?
Mr. S: Impossible, I'm afraid. I'm in an excellent mood, you see.
And such was the case on this beautiful morning. Here is a picture for you to see: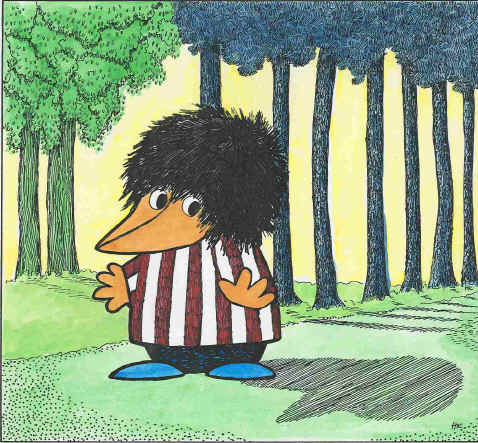 Mr. Sumppi added that as far as he knows, his shadow hasn't been on the wrong side since that Thanksgiving Day several years ago, when the Mudhats crashed the Trolls' Thanksgiving Party, and threw cranberry sauce all over the walls.

HOME