A Little Bit Of Troll History


We, the Kuuskoski Family, have been creating, making and telling stories about Trolls since 1952. But of course, Trolls have been around for much longer than that. There have always been trolls in the Scandinavian folklore, but these old trolls were always ugly, nasty and dangerous. Children were told "If you don't behave yourself, the trolls will come and take you away!" We don't know whether children behaved or not, but nobody liked trolls.
The time was in the early 1950s in Finland, where life was still difficult as everyone was trying to recover from the effects of World War II. Helena had married a young actor, Martti, and to supplement the family income, she had started making stuffed animals and other dolls to sell. For some reason, Helena had gotten a notion that if there are bad trolls, then there should be friendly ones, too, but she really wasn't going to do anything about it. This was just a playful idea in her mind. Then one day, without warning, she was trying out some new ideas, and suddenly she realized she had made a TROLL! It looked friendly although a little bit wild. This had to be one of the friendly Trolls she had been thinking about. She made a few more and tried to sell them, but at first people didn't want them. So, Helena told them a story about this Troll, and that made all the difference. Little by little Helena created many more Trolls, each one with a unique look, personality, name and a life story. These Trolls became known world-wide as FAUNI-trolls.
Helena's grown-up children, Minna and Johannes, have worked with the Trolls for as long as they have been able to hold a pen, or glue a nose in place. ("We grew up as Trolls" they like to say.) Over the years, the Troll family has grown, the stories have gotten bigger, and the entire Trolldom has evolved into a charming place where many adventures happen every day. There have been many twists and turns in the story of the Trolls and the Kuuskoskis, and now they all live happily in Wilmington, North Carolina.
Everyone is invited to visit the world's most unique Troll Store, where stories about these Trolls are told every day. On Sundays there is a Troll Story Time at 2 pm, where visitors can hear a story about some of the most exciting adventures. Sometimes there are special appearances by life-size Trolls. Visitors can write to the Trolls as well, and receive a response by mail.
This year, 2012, we are celebrating 60 YEARS OF FAUNI TROLLS!
Here are a few more pictures from the past: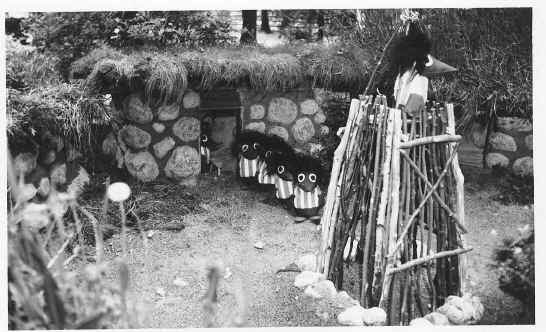 Sumppi peikko@123jen SINISEN SAVEN KYLA, kuva n.vuodelta 1965.
(KUVA: Kuuskoski/Fauni arkisto)
This is the SUMPPI VILLAGE OF BLUE CLAY, the picture taken circa 1965.

Talvinen peikko@123metsa Jarvenpaassa, kuva noin vuodelta 1966. (KUVA: Kuuskoski/Fauni arkisto)
Winter in Trollforest (in Jarvenpaa, Finland), circa 1966.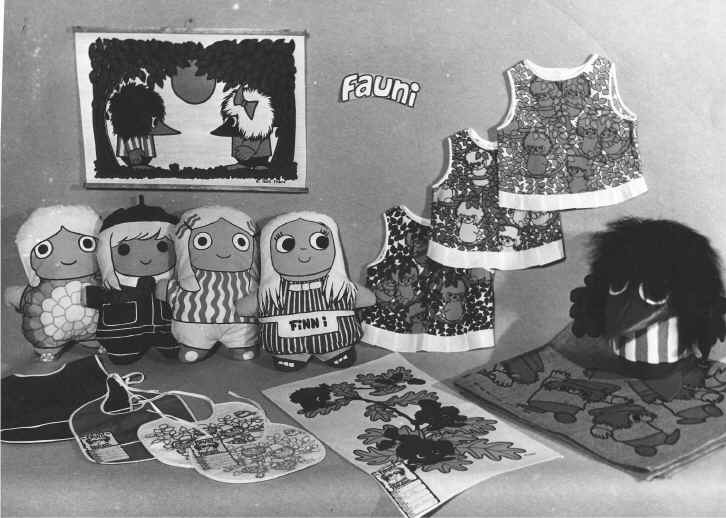 FAUNIn tuotantoa (omasta silkkipainosta/ompelimosta) 1960-luvulta (KUVA: Kuuskoski/Fauni arkisto)
FAUNI products from our own silk-screen printing shop/sewing department.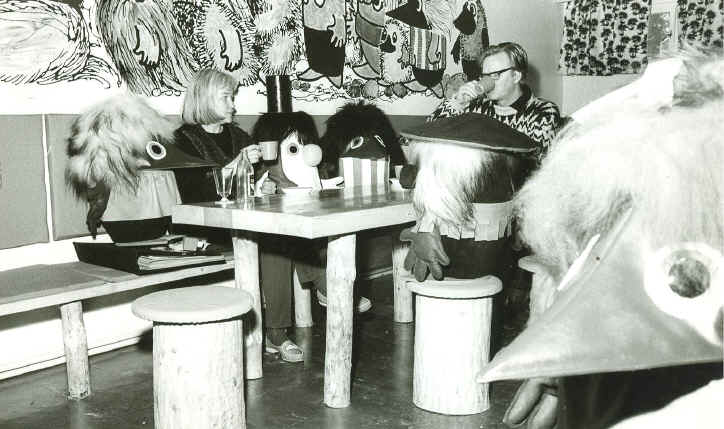 Helena and Martti Kuuskoski enjoying a cup of coffee In the first Troll Cafeteria. The building was originally a garage, converted to this use around 1965. Soon a bigger cafeteria/restaurant was needed, so this building became the Fauni troll shop.
Helena ja Martti Kuuskoski peikko@123metsan alkuperaisessa kahvilassa (rakennus oli ihan alunperin autotalli) pitamassa palaveria peikko@123jen seurassa.
(KUVA: Tilaus-Kuva, jarvenpaa, Kuuskoski/Fauni arkisto)

A view of Trumpetnose's tower in Trollforest. The small cottages in the foreground were beautifully created by our master-carpenter Kalle Myllynen.
Runoilijapeikko@123 Torvinokan torni peikko@123metsassa. Tornin edessa nakyy muutamia taitavan puuseppamme, Kalle Myllysen luomia
peikko@123taloja. (KUVA: Kuuskoski/Fauni arkisto)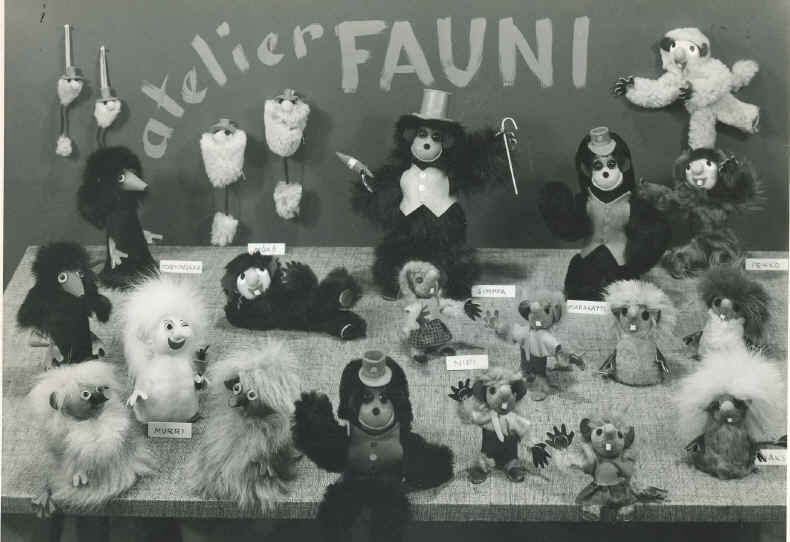 Atelier FAUNIN peikko@123nayttely 1960-luvun alussa, luultavasti jossain paikallisessa esittelytilaisuudessa Jarvenpaassa tai Tuusulassa.
(KUVA: Tilaus-Kuva, jarvenpaa, Kuuskoski/Fauni arkisto)
FAUNI Troll display at an exhibition in the early 1960s, most likely in Jarvenpaa or somewhere in Tuusula.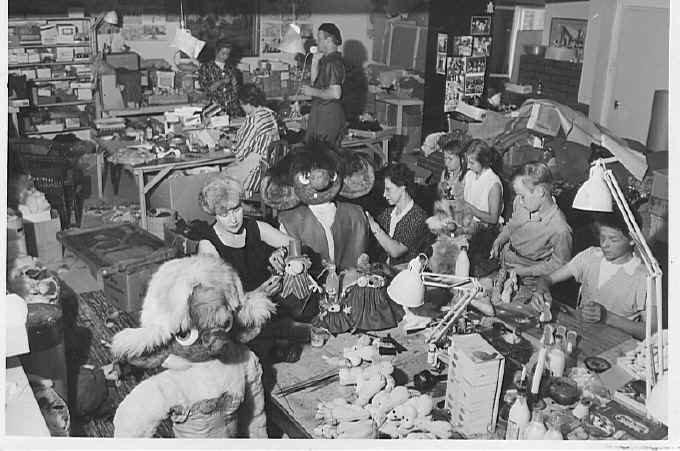 FAUNI tyoverstas kotimme ylakerrassa Jarvenpaassa, kuva n.vuodelta 1961.
Helena etualalla Hiski-peikon vieressa, Martti seisoo Hiskin takana. Johannes nojailee poydan kulmaan, Minna istuu valko-paitaisen neidin vieressa. (KUVA: Tilaus-Kuva, Jarvenpaa, Kuuskoski/Fauni arkisto)
This was the FAUNI workshop in the upstairs of our home in the early 1960's. Troll-Mom Helena is on the left, working on some new characters. Big HISKI (Buster) troll is standing next to her. Dad Martti Kuuskoski is standing behind Hiski.
The younger generation is in here, too. Johannes is leaning against the table and Minna is sitting next to the young lady dressed in a white shirt. Picture probably taken in 1961.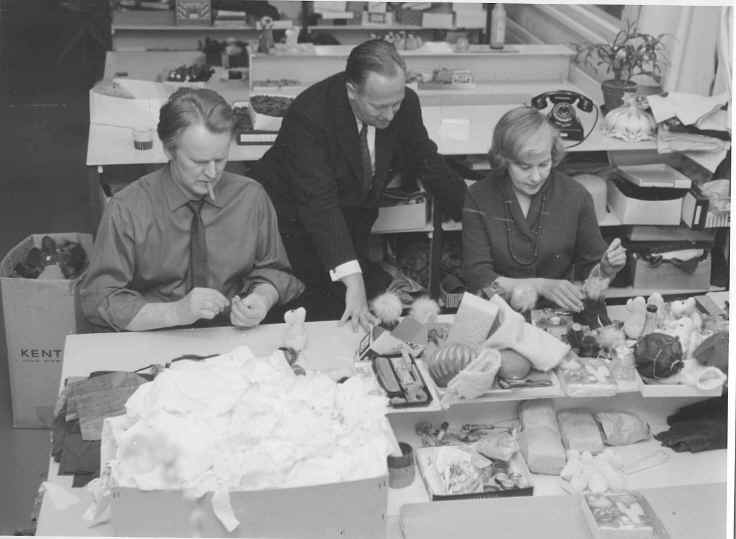 Helena ja Martti peikko@123-verstaalla (uusissa tiloissa), mukana tarkea vierailija, luultavasti joku valtion virkailija.
(KUVA: Tilaus-Kuva, Jarvenpaa, Kuuskoski/Fauni arkisto)
Here are Helena and Martti Kuuskoski in the new and MUCH bigger FAUNI workshop, circa1965.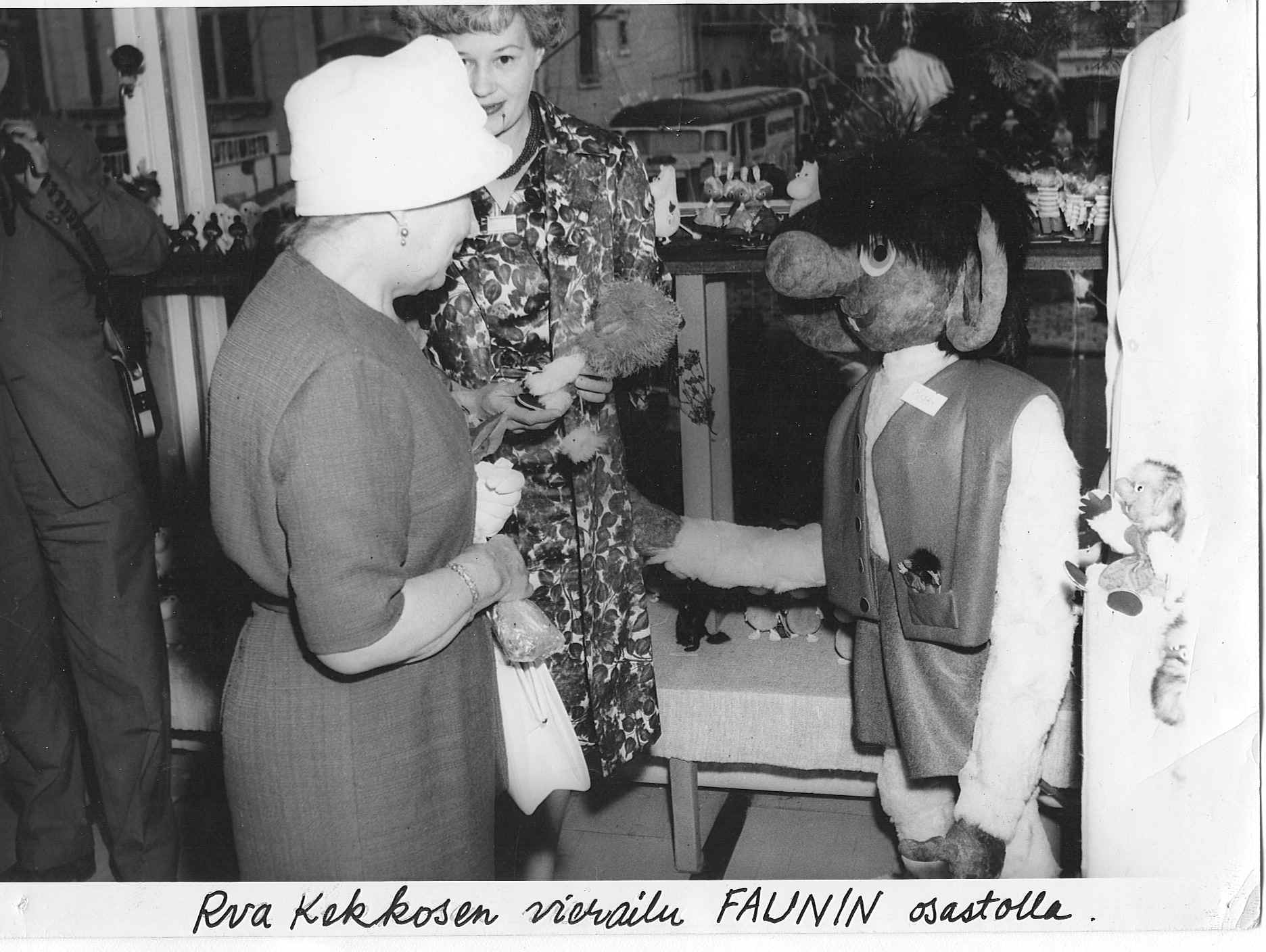 Suomen Tasavallan presidentti Kekkosen rouva, Sylvi Kekkonen, tervehtii Hiskia ja muita peikko@123ja messuilla. Tama oli ensimmainen kerta kun olimme mukana messuilla, luultavasti Turussa, 1960-luvun alussa.
KUVA: UAS SAARINEN, Helsinki (Kuuskoski/Fauni arkisto)
Mrs. Sylvi Kekkonen, the wife of Finland's long-time president Urho Kekkonen greeting Helena Kuuskoski, Hiski and other Fauni trolls at the Turku Exhibition in the early 1960s. This was the first time we participated in a big exhibition.