WARNING - ENTER THIS PAGE AT YOUR OWN RISK!
Dear Visitors; as you may know, our friendly Trolls have some very nasty neighbors. These are the Mudhats who live in the awful Mudswamp just outside of Trolldom. Mudhats have been pestering us to give them their own page for quite some time, so here it is. Maybe it's a good thing to find out about them, so that if you ever come to visit us in Trolldom and accidentally run into some Mudhats on the way there, you'll know what you are dealing with.
MUDHAT PAGE - THE BEST ON THE WEB !
(because we say so!)
NO TROLLS ALLOWED - ENTER AT YOUR OWN RISK - TROLLS STAY OUT!
ABSOLUTELY NO FURBALLS OR FUZZ BRAINS!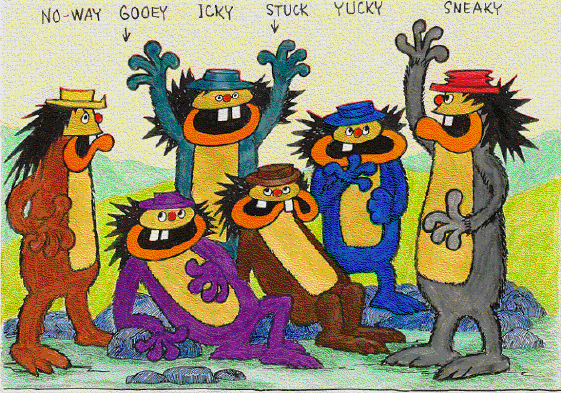 Here you see some of the most important and dangerous Mudhats hard at work. Sneaky, on the far right, is the undisputed leader of the Mudhats. He is as mean as they come. His buddy is No-Way, on the far left. You can probably figure out how he got his name. Gooey and Stuck, both sitting on the rocks, usually get along well, except when they don't. Icky and Yucky can come up with the most awesome - or most stupid- ideas Mudhats have ever thought of.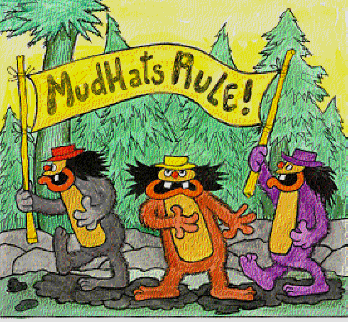 As you see, Mudhats consider themselves to be superior to everybody, especially the Trolls. In fact they call Trolls 'Fur brains' or 'Fuzzballs'. In the following sections you will find out all kinds of stuff about Mudhats:
MUDHAT PERSONALITIES
Mudhats thank SCREAMDESIGNS for these terrific backgrounds. Mudhats want you to visit them.